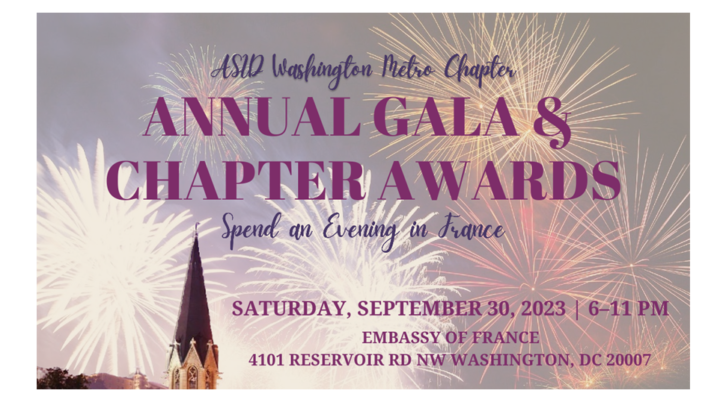 Annual Gala & Chapter Awards Presented by 3 Day Blinds
Description
Annual Gala & Chapter Awards
Spend an Evening in France
ASID Washington Metro Chapter invites you to the Ambassade De France/Embassy Of France on Saturday, September 30, for the Annual Gala and Chapter Awards!
Please note all attendees will be subject to a background check by the French Government and must have a legal ID to enter the premises.
Ticket Fee | $125/person
Fees will increase to $150 after Saturday, September 9.
Sponsorship Opportunities Available
ASID is offering members several sponsorship opportunities for the Annual Gala and Chapter Awards. Sponsoring an event is an inexpensive way to market your business, gain new customers, get in front of your target market, and support ASID. Printable PDF
Chapter Award Nominations
The Washington Metro Chapter of ASID will honor our fellow members and others at our annual meeting in September. We are currently accepting nominations for the awards listed below. Any chapter member may nominate a recipient for one or more of these awards. The person's name and an optional short list of reasons outlined on this form is all that is required. We encourage you to recognize those who have served our chapter or otherwise made outstanding contributions to the design field. Fill out (all or part of) this form and click the submit survey button at the bottom, but no later than Friday, September 1, 2023.
Presented by
 
ASID WASHINGTON METRO | 2302 Gallows Road, # 157, Design Impacts Lives,
Dunn Loring, VA 22027
THIS IS A TEST EMAIL ONLY.
This email was sent by the author for the sole purpose of testing a draft message. If you believe you have received the message in error, please contact the author by replying to this message. Constant Contact takes reports of abuse very seriously. If you wish to report abuse, please forward this message to abuse@constantcontact.com.