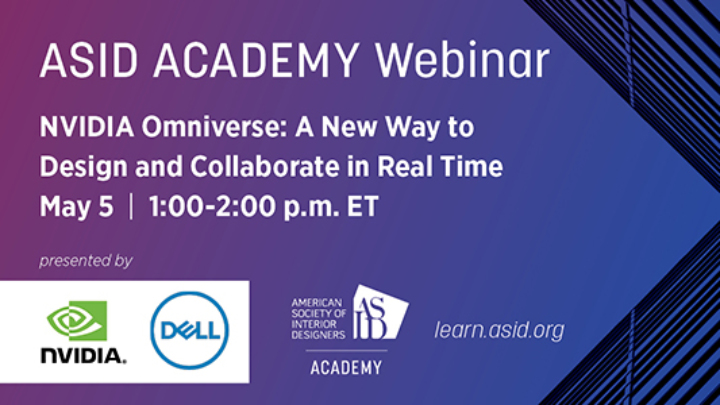 Webinar on "NVIDIA Omniverse: A New Way to Design & Collaborate in Real Time"
Description
Experience real-time, photorealistic simulations and collaborations with NVIDIA Omniverse, a design platform from Dell and NVIDIA to improve decision-making and client communications. Join the webinar "NVIDIA Omniverse: A New Way to Design and Collaborate in Real Time" on Wednesday, May 5 from 1:00-2:00 p.m. ET! The webinar is free and open to all ASID members. Register here.
About the Webinar
Realize your vision with photoreal accuracy, make decisions in real-time, collaborate with your partners regardless of which software they use, and interact with clients halfway across the world – this is the foundation of NVIDIA Omniverse. Built from the ground up for collaboration, NVIDIA Omniverse is a new way to approach design. Utilize the tools and software you already know in coordination with your creative collaborators. See your work come to life with realistic detail by simulating the properties of light, and do it all interactively with photoreal results. Omniverse lets you generate more concepts, with more variations, by allowing you to iterate at the speed of light and experience more efficient decision-making and client communications.
Register and attend the live webinar to be entered into a drawing to win a Dell Ultrasharp 34 Curved USB-C Hub Monitor provided by Dell & NVIDIA! The winner will be selected after the webinar.

What You Will Learn
Recognize the power of collaborative design
Identify the benefits of real-time visualization
Implement improved client communication with real-time decision making
Access period: One year from the registration date.
Speakers
Rick Grandy
Principal Solutions Architect – Media & Entertainment, NVIDIA
Rick Grandy is a principal solutions architect on the ProViz team at NVIDIA where he focuses on deep learning and graphics for media and entertainment. Rick has nearly 30 years experience with visual effects and animation. From working with the first fully simulated skin/muscle system in "The Mummy," to creating furry creatures in "The Lion, The Witch and the Wardrobe," developing facial and body performance capture in "Beowulf," to designing shape-shifting robots for the "Transformers" films, Rick's career has been on the leading edge of VFX technology. Prior to joining NVIDIA, Rick developed real-time previsualization pipelines for multiple studios and designed post-production workflows for the Star Wars and Star Trek film franchises. His career's work can be seen in over 30 motion pictures, along with multiple VR, commercial, and television projects.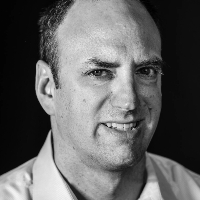 Greg Brill
Business Development Manager, NVIDIA Graphics for Workstations, Dell Technologies
Greg Brill has been with Dell Technologies at Dell's corporate HQ for 21 years. He currently is the business development manager for NVIDIA workstation products at Dell Technologies. Greg manages the relationship with Dell's Precision Workstation products with NVIDIA Quadro and NVIDIA RTX GPUs to ensure perfect pairing to enable creatives in every aspect of data science. Greg was also recently elected as a Director to the UBC Dams board and serves his community on a regional dam and flood mitigation activity.